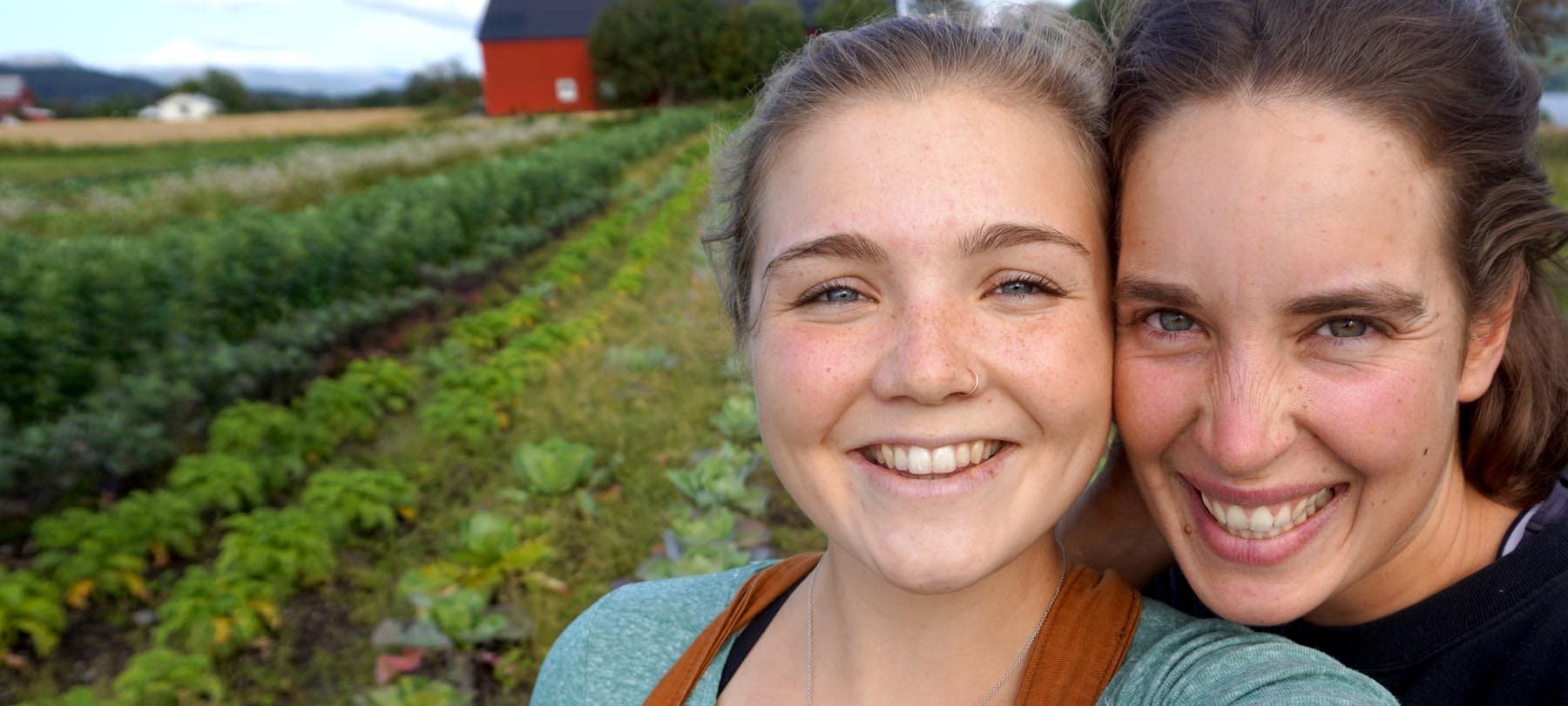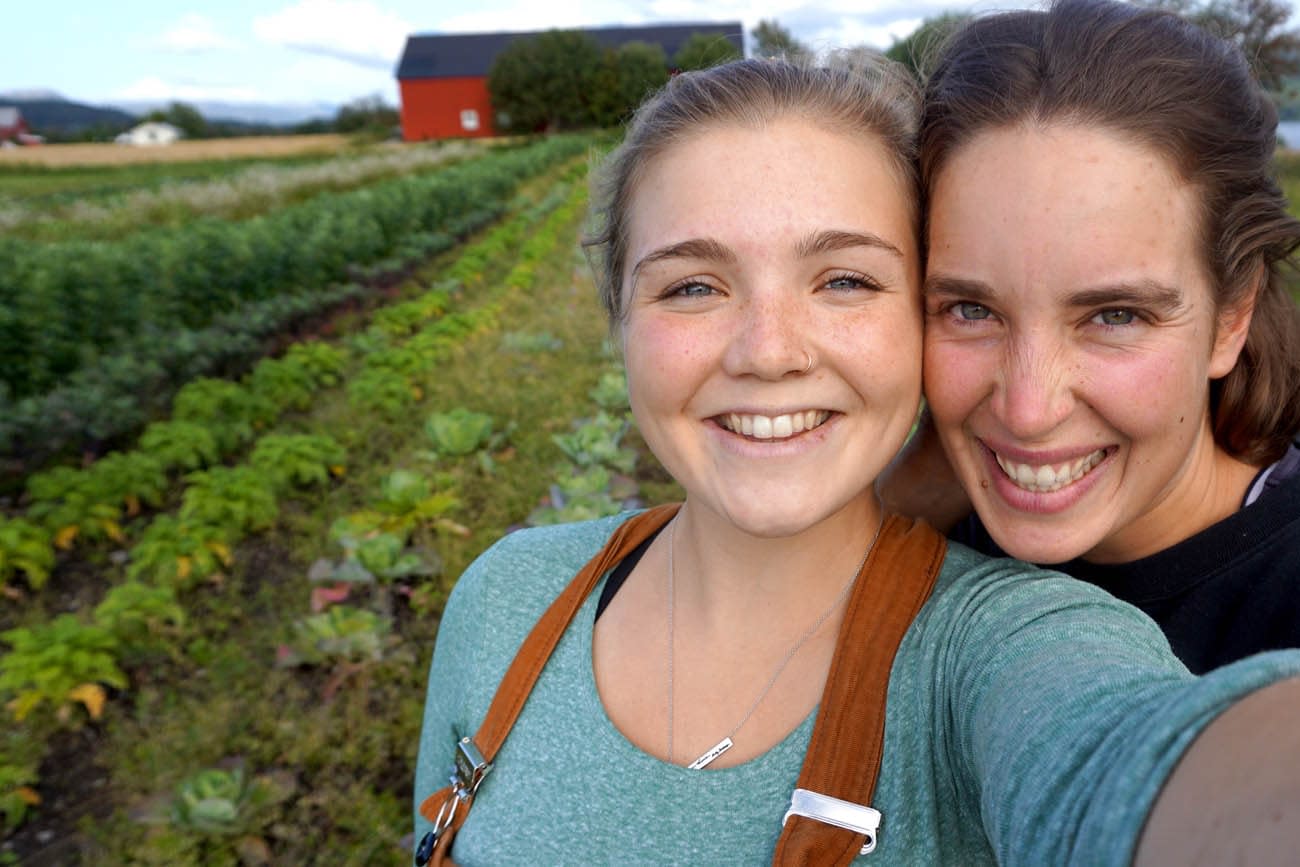 Do you dream of having your own small farm?
Here you can learn to grow vegetables, grain and berries. You'll also learn to keep animals and slaughter for you and your family to eat. As well as processing of vegetables, milk, and meat. You'll also get experience with working in the woods, regenerative agriculture, and market gardening.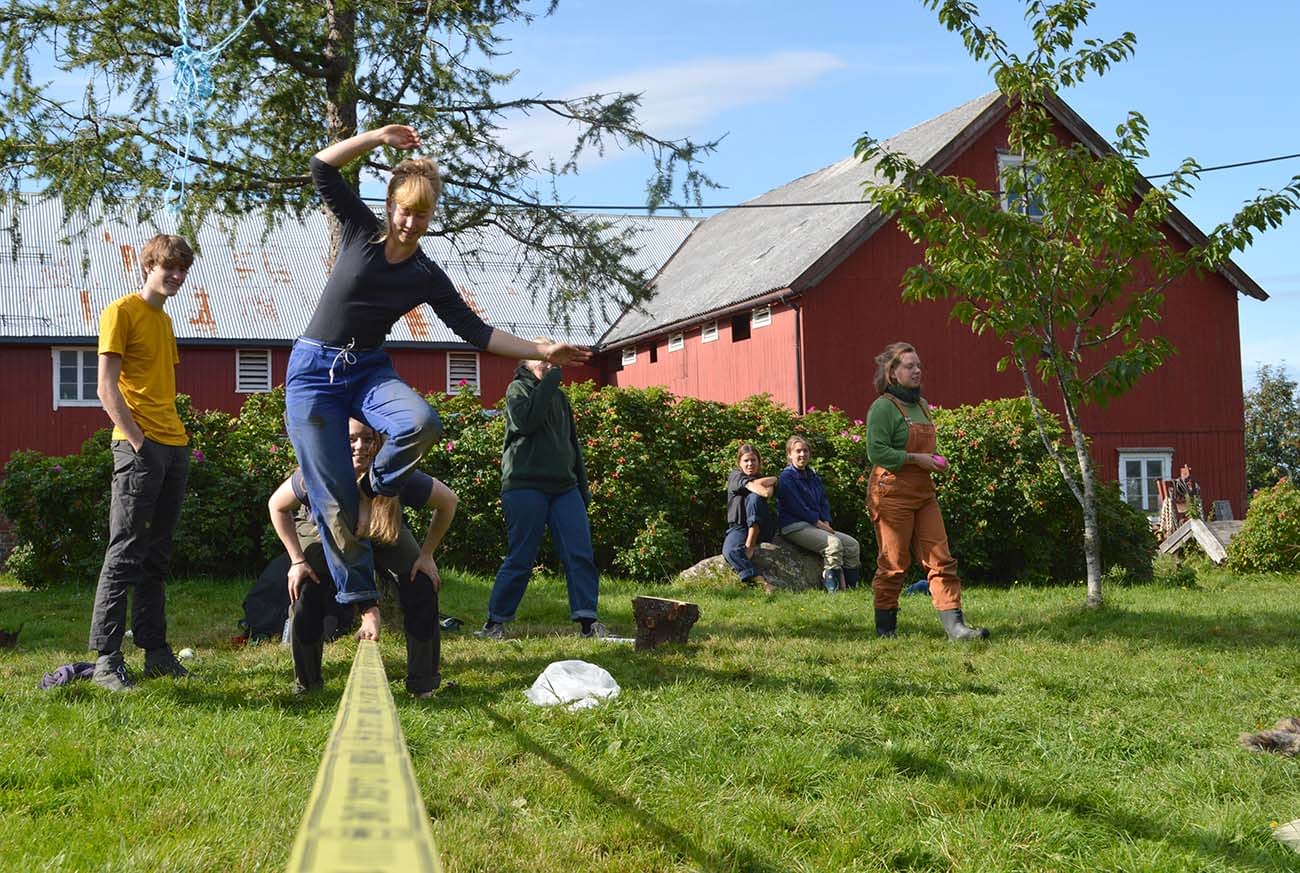 Life on the Farm
Join us in doing the day to day tasks of maintaining an organic farm, and follow the rhythm of the seasons with sowing, weeding, harvesting, composting and using manure, as well as maintenance, and even fishing.
To witness the birth of an ox and then to watch him grow everyday, or see a hen grow from an egg to laying her own eggs is a truly magical experience.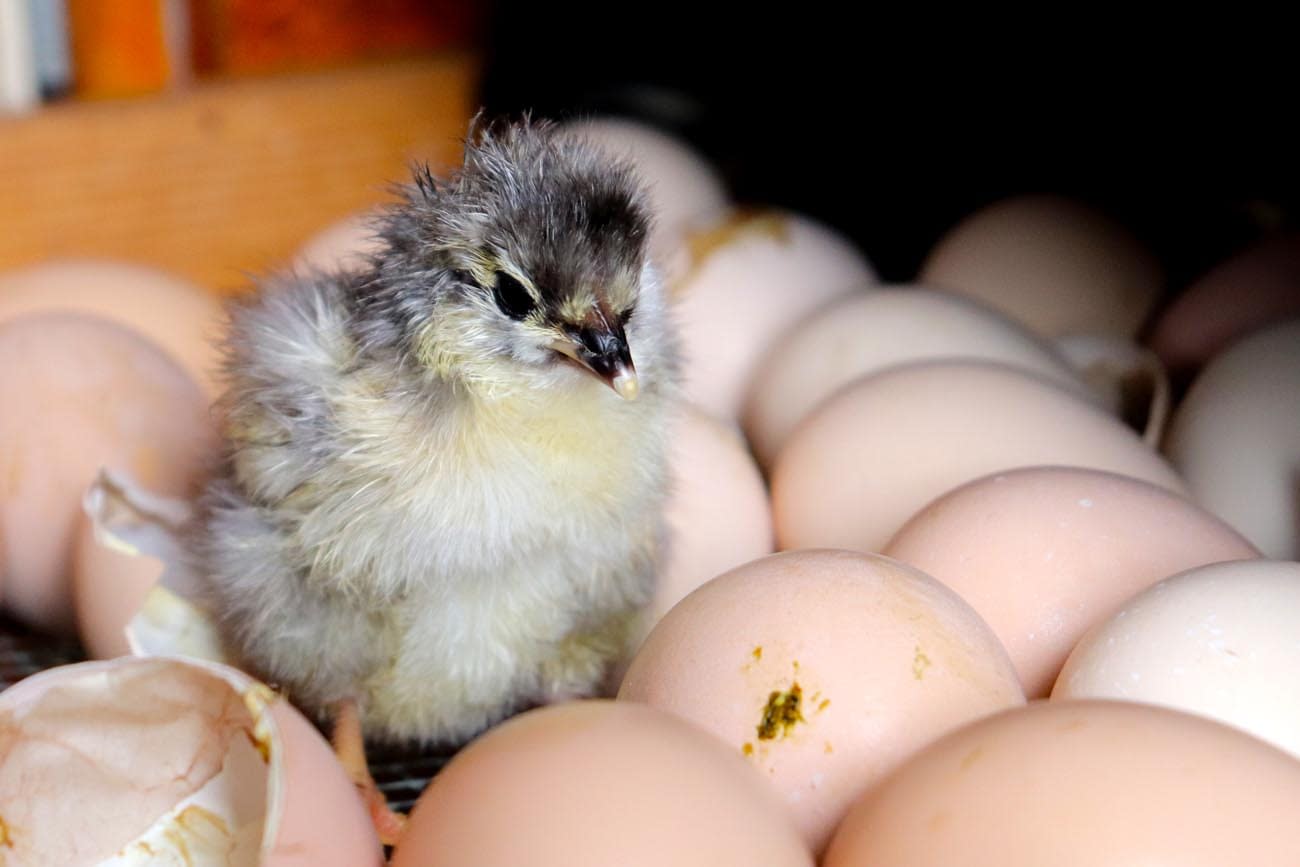 Organic and multi-faceted
The school's organic farm is Debio-certified, and is an important contributor to allow us to be as self-sufficient as possible. On the farm we have hens, pigs, cows, and ducks, and we grow potatoes, vegetables, herbs, grains, and hay.
We follow the whole process from keeping the animals to slaughter and processing the meat and innards. It is crucial to us that the animals live well and that the slaughter is done with the greatest respect for the animal. Once it has been slaughtered we use all parts of the animal: the meat and innards become food, the bones will be stock, and the skin will be tanned and made to leather.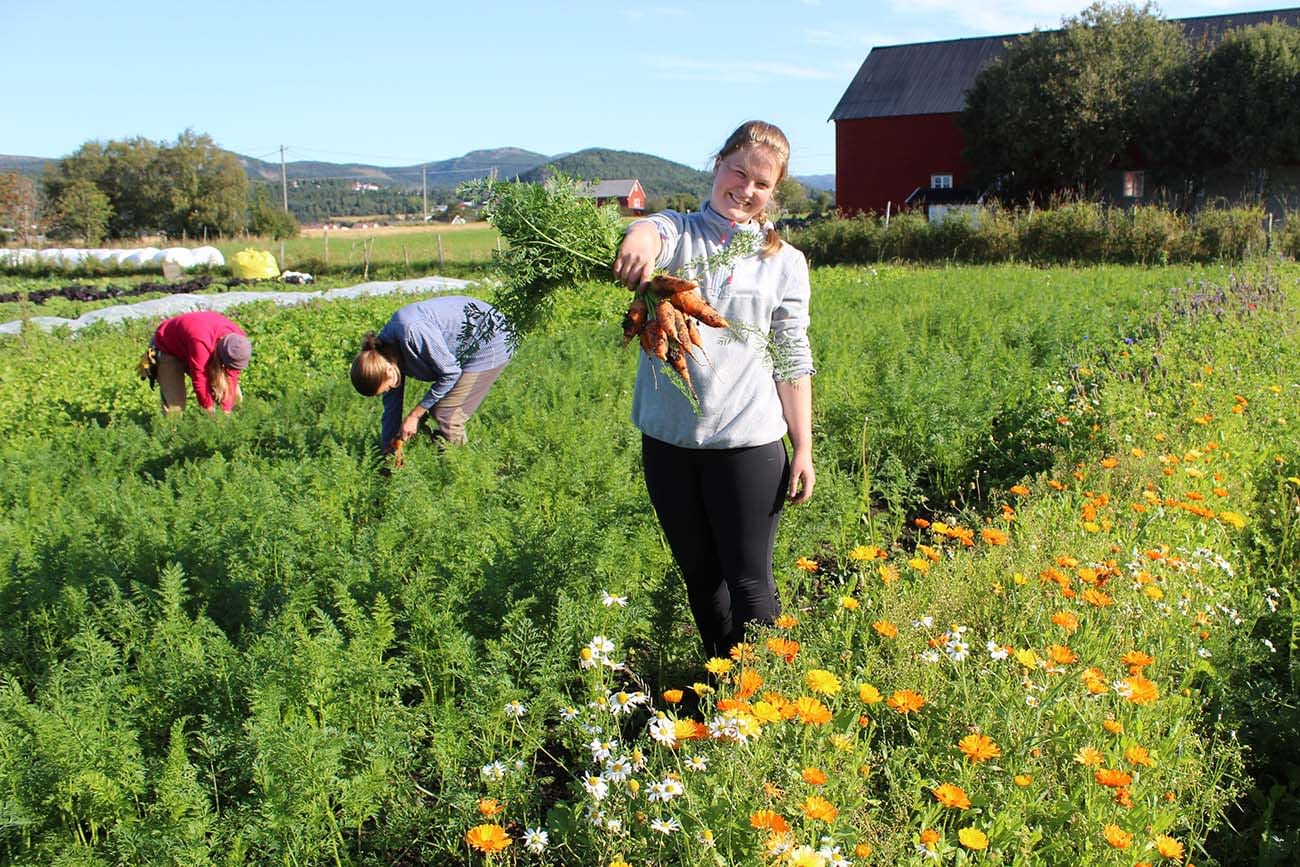 Less is more
It's important for us to be able to grow good food without requiring lots of equipment, or heavy machines.
Across the world we're seeing small gardens and farms being established, so called Market Gardens, which grow food for a few dozen families with simple but effective equipment.
We see it as a strength to be little.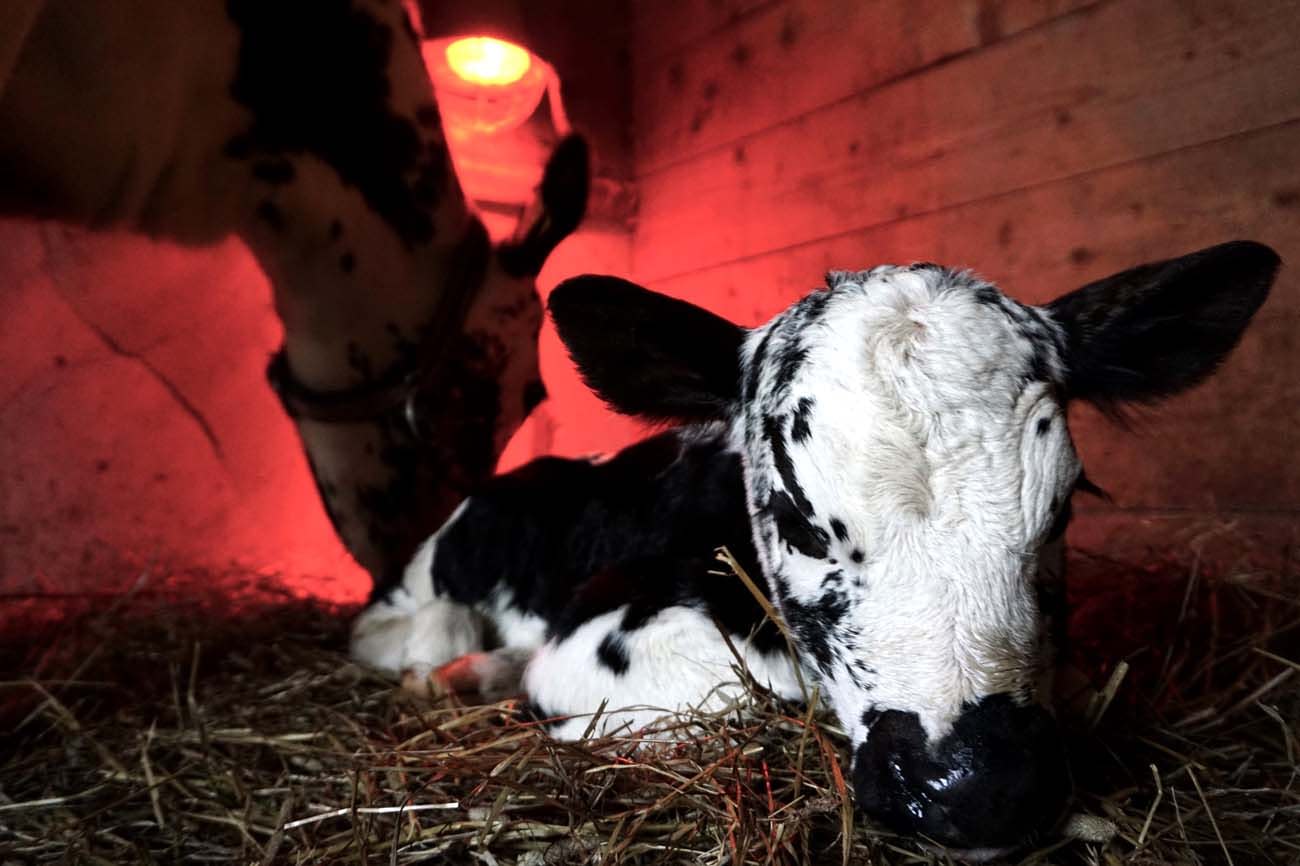 Caring for livestock
In the course of the year, you'll have responsibilities to care for the animals, along with other students.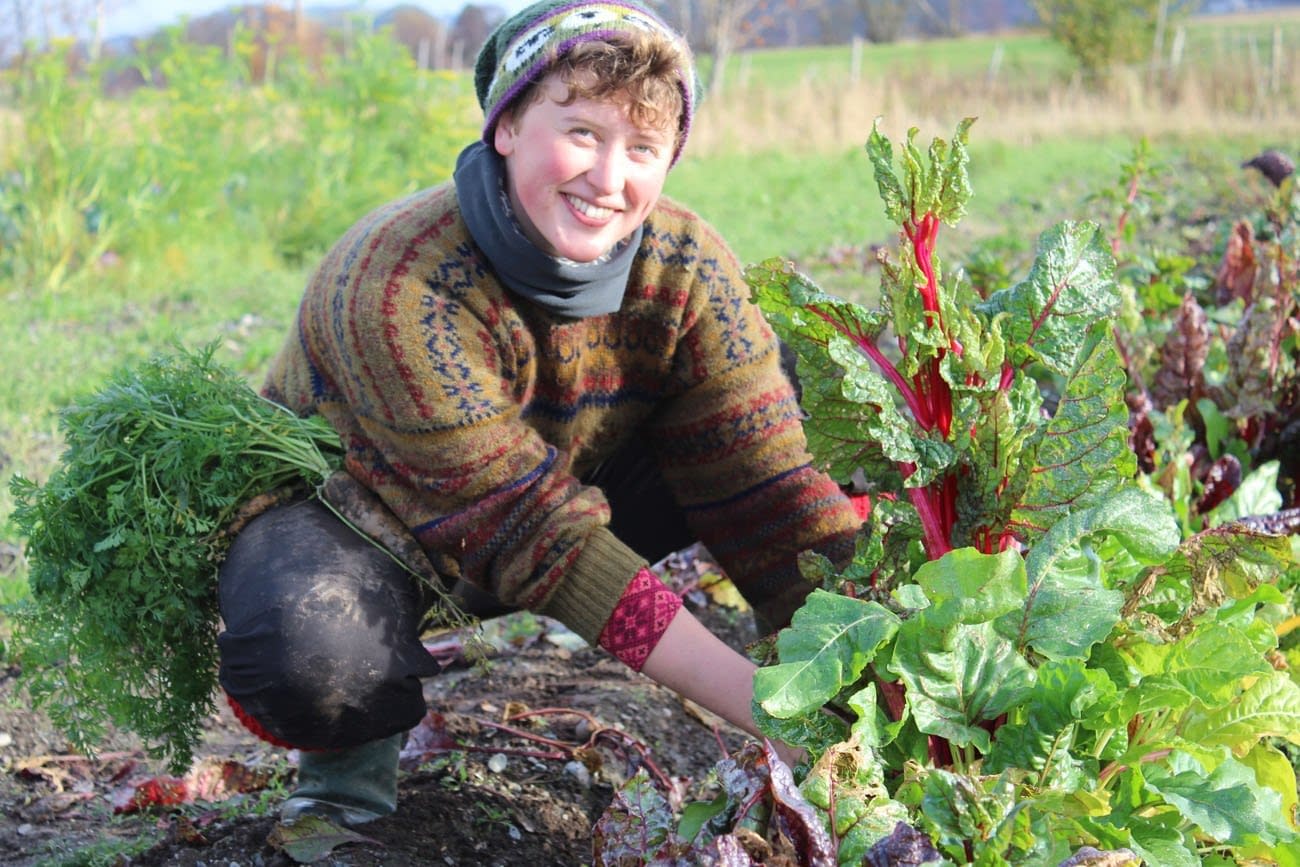 Processing
In the late fall there's usually time for some processing of the raw ingredients we get from the farm.
From the milk we'll make yoghurt, butter, and cream cheese.
The meat will be parted, the best cuts saved for later, and the rest ground for sausages and meatballs, and we'll even dry some of it to make Norway's famous "spekemat."
Apples will be pressed to juice, and vegetables fermented.
That's how we get to eat food we grew ourselves all year round.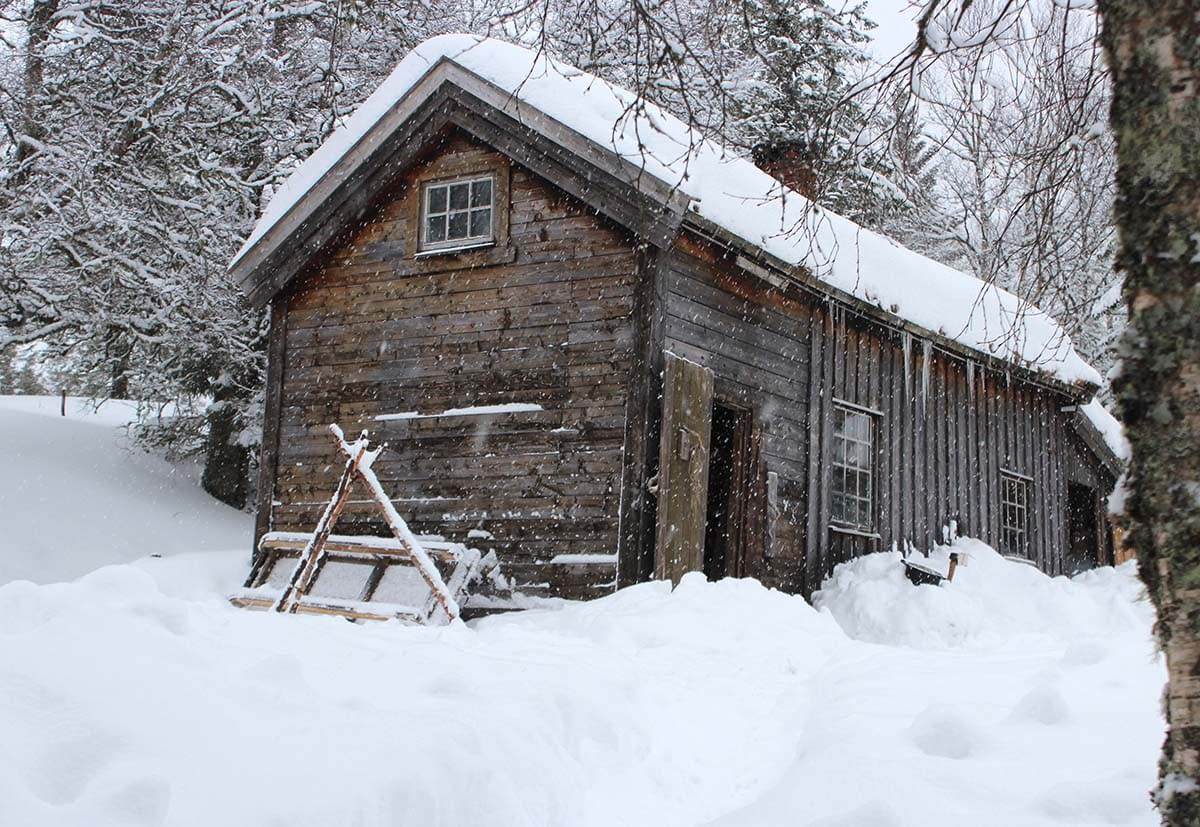 Mountain farm
The school also has a mountain farm with its own woods where we have our cows graze in the summer, and in the winter we fell trees to become firewood.
We also have a flock of sheep that belongs to an old Norwegian breed further out on an island on the coast.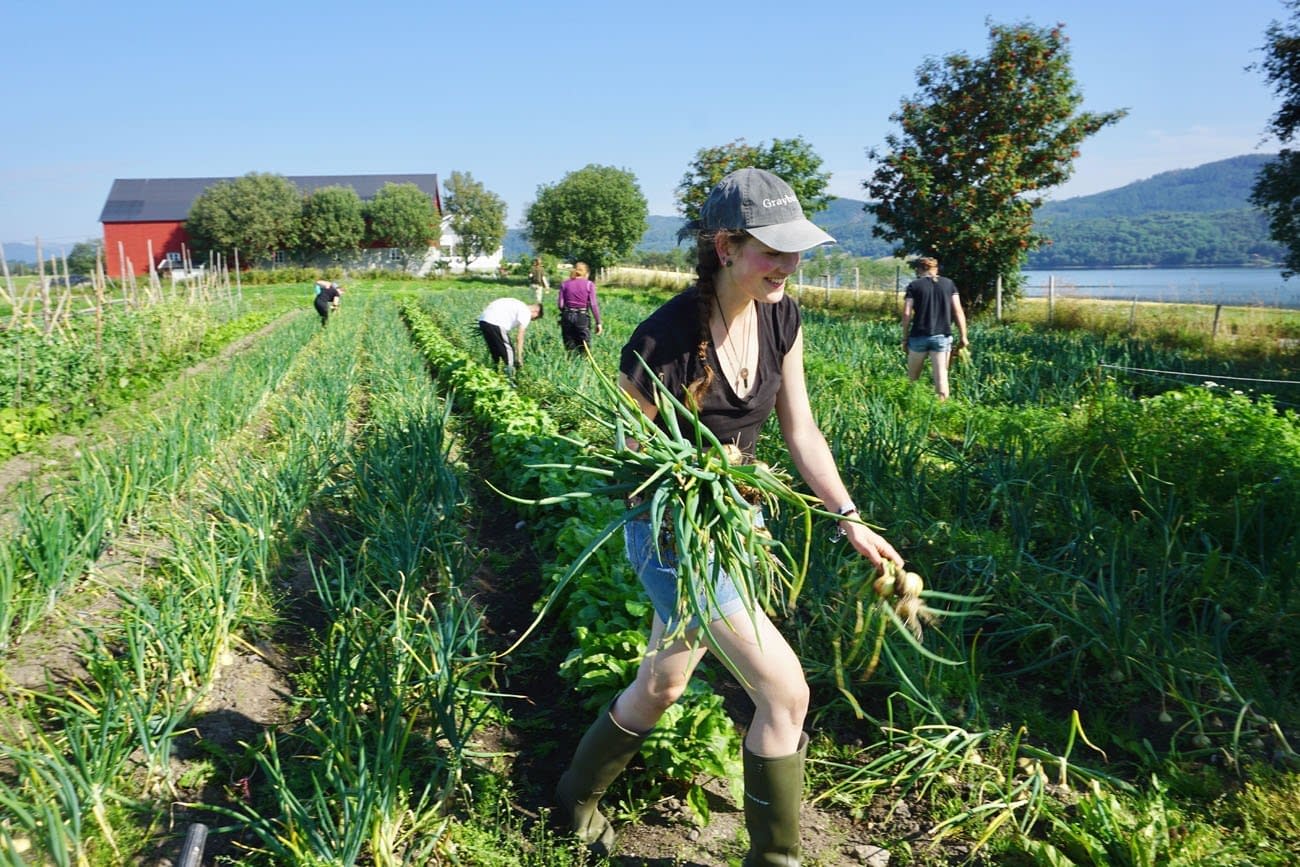 An important contributor to the school's self-sufficiency
Together with the Self-sufficiency class you'll contribute to making the school as self-sufficient as possible.
The majority of food produced on the farm gets served in the school's cafeteria.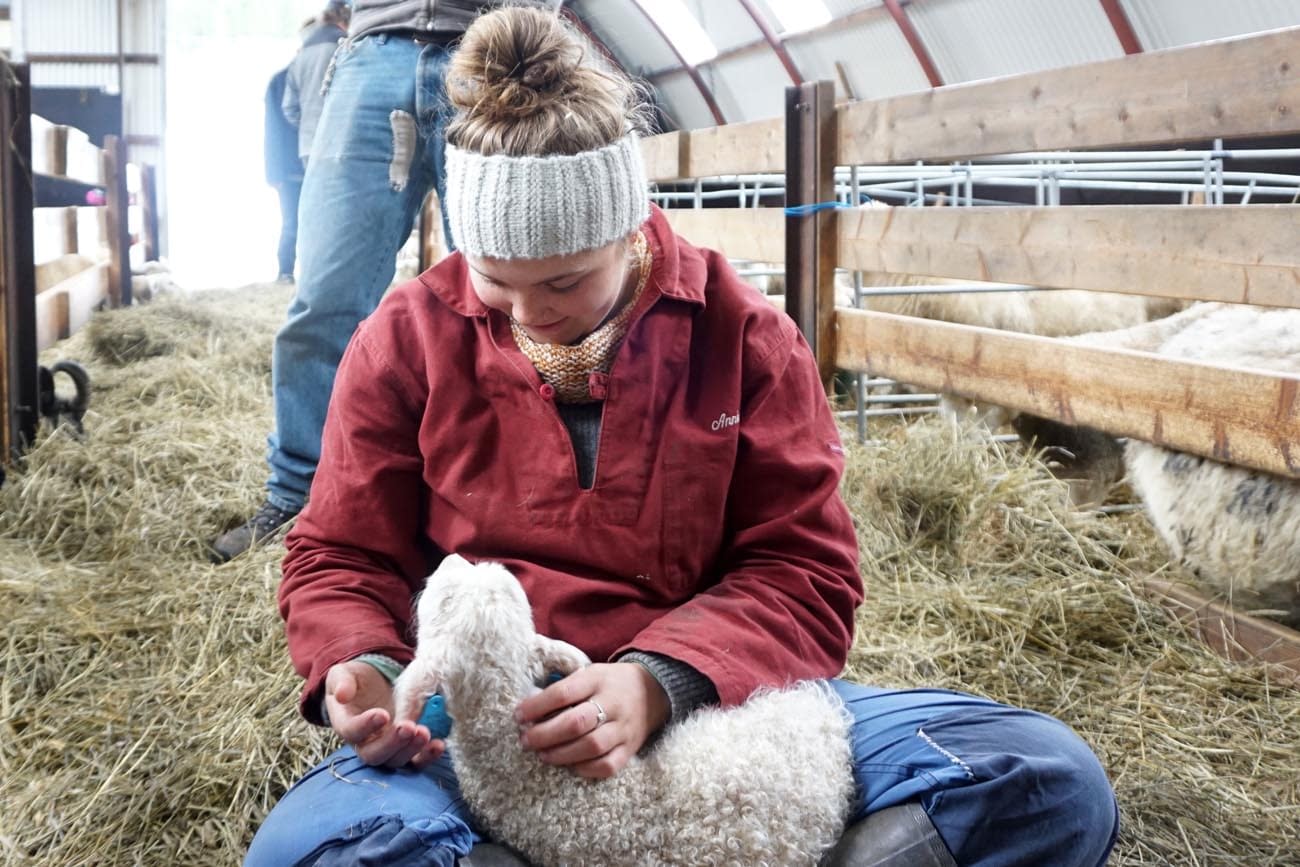 Organic for the Future
We run our farm organically because we believe it to be the future of farming.
Do you want to be a part of the Green movement?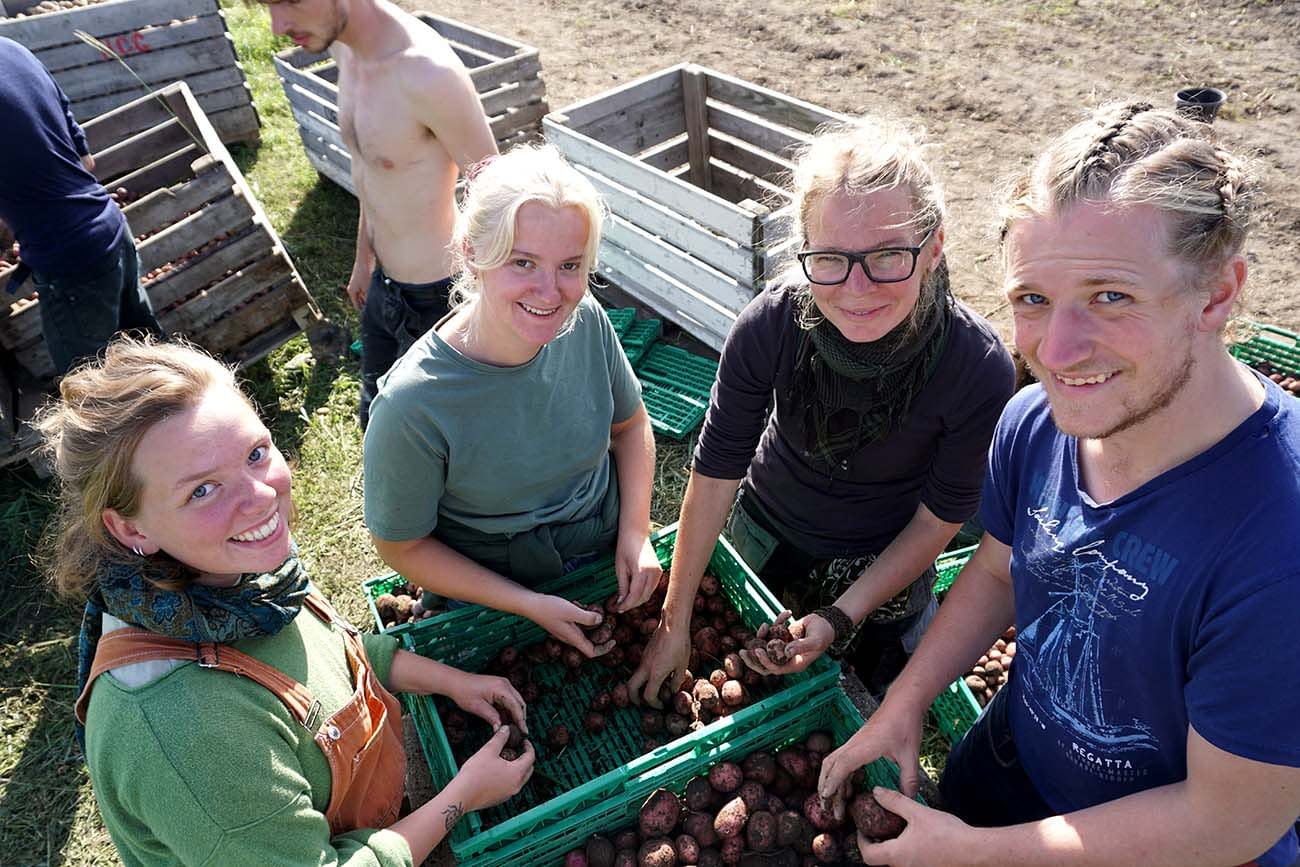 The year in short:
Autumn
Harvesting vegetables
Slaughter of sheep and pigs
Preservation of food
And hard work
Winter
Timber felling at the hill-farm
Milking of cows and processing their milk
Pruning of fruit trees
And exciting theory about crop rotation, keeping of farm animals, and the running of an organic farm
Spring
Spring Work, probably the most intense work period of the year
Which crops will be planted for next year?
Which crops can be grown together for maximum yield
In May the whole class will live together on the farm. A new growing season has started and the fields need to be readied, and seeds sown, and sprouts planted, everything done following organic principles. This is to ensure the harvest will be good come summer.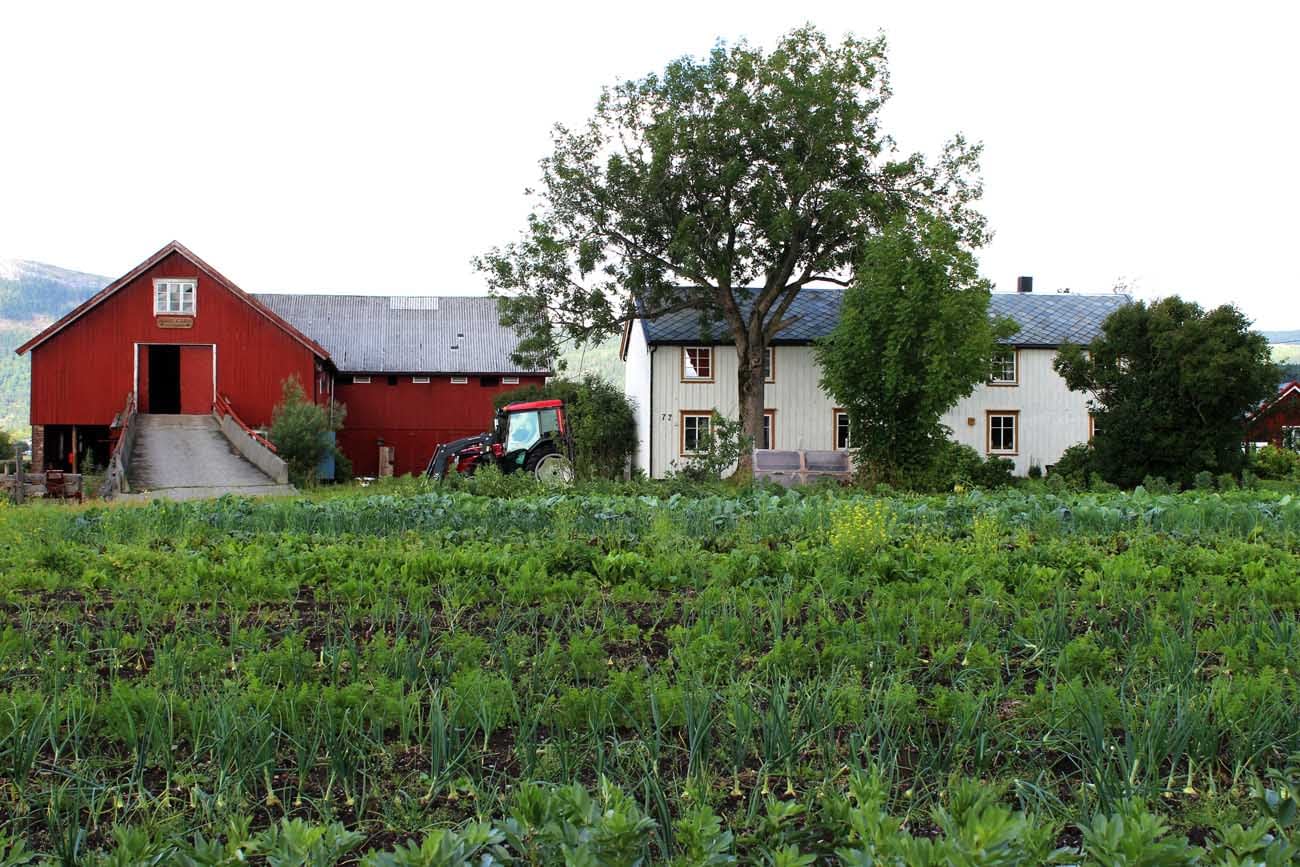 Here you'll get to:
Cultivate grains, hay, vegetables, fruits, and berries
Care for cows, sheep, and hens
Take part in the work required to run an organic farm
Learn to make cheese, butter, and cure meats
Slaughter
Fell timber
Learn to be a more responsible person
Could this be the course for you?
Whether country mouse or city mouse you don't need any beforehand knowledge or experience in farming to take part. Anyone who's interested in farming or agriculture is right for this course.
Whether you want a farm of your own, a garden outside of your townhouse, or just want to know better where your food comes from, then this is the course for you!
Our expectations of you
We expect students to be interrested in learning, ready to work hard, and creating a positive class environment.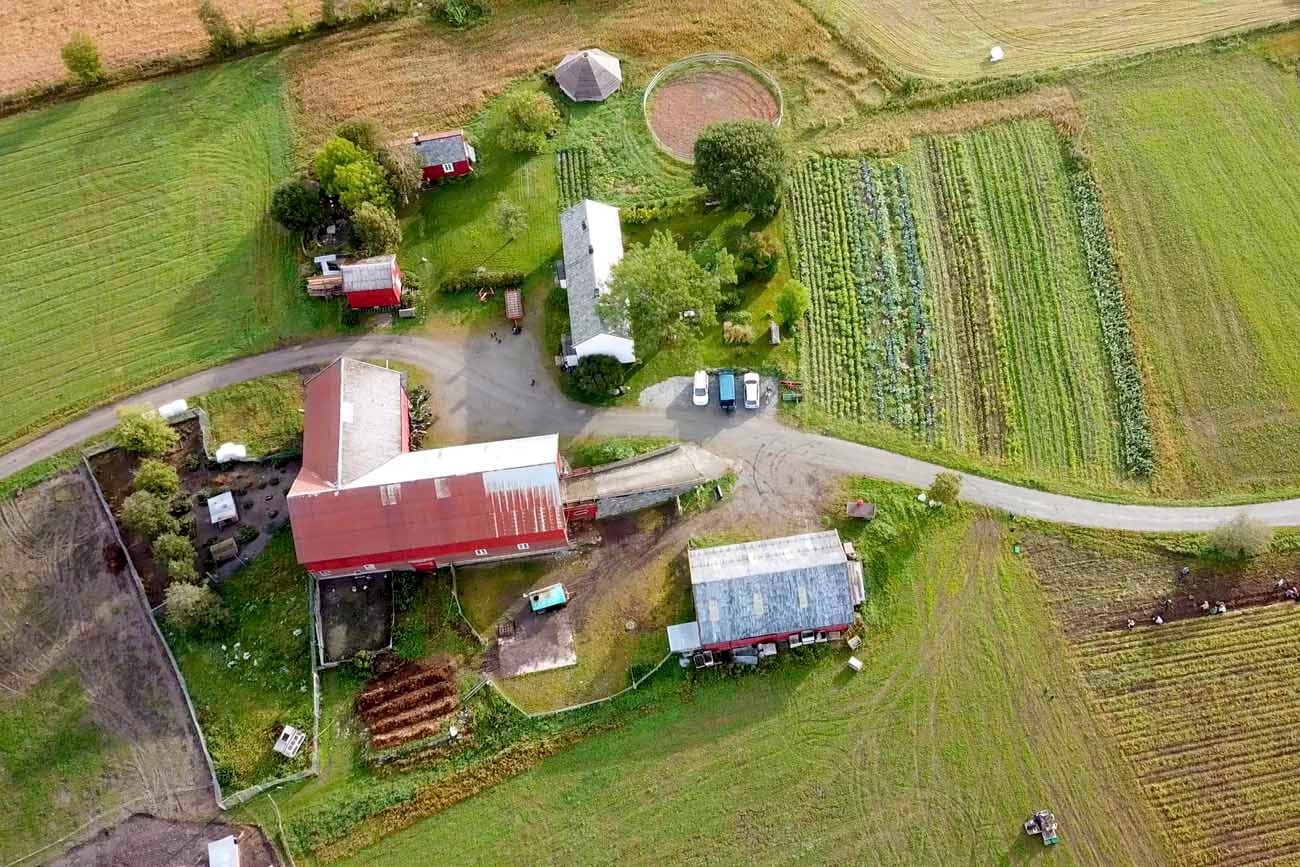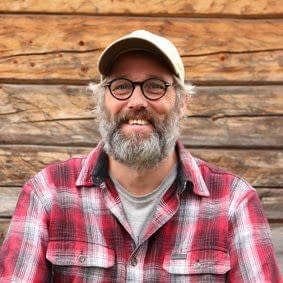 Teacher: Anton Van Genugten
Anton is our tall, Dutch jester. He is an energetic acrobatic, often found running around in wooden clogs.
Anton is calm and caring. His gentle approach to agriculture keeps our farm and forest thriving.
He is a compost fanatic and champions a sustainable, organic lifestyle.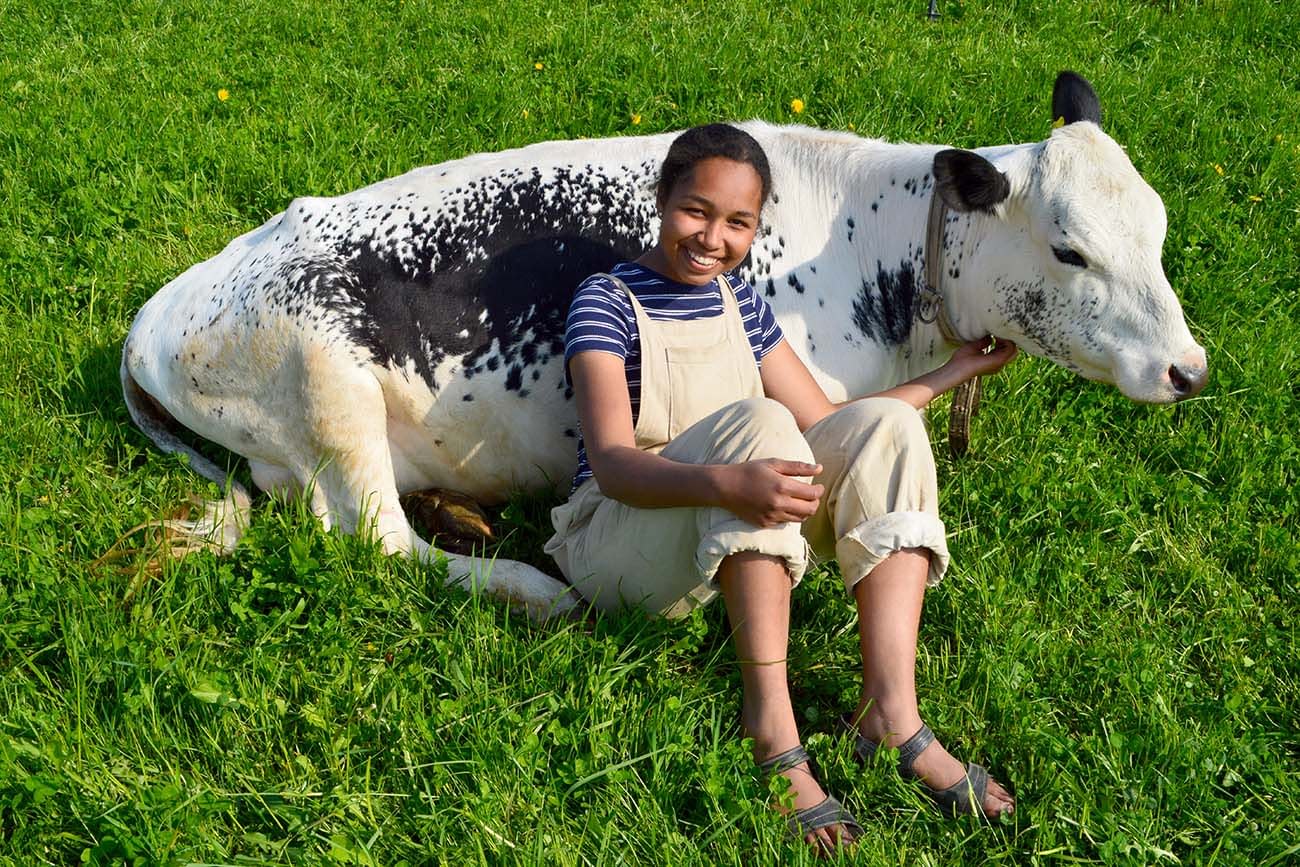 9 month course
This is a 9 month course, from late august until the end of may.
In addition to your course there are electives and collective courses. The electives on offer change every year, but some of the classics are: tanning of hides, sail making, chest making, outdoor life, forging, knife making, willow weaving, plant dyeing, traditional shoe making, sailing, and textile work.
Whole school classes can be presentations from guest teachers, group work projects, farmwork, even school trips!
Our average student is between 18 and 25 years old, but we also have older students. All students live in the school dorms, and organic food is included in the school fee.
Classes are held in Norwegian, but all our teachers speak English as a second language and will explain in English when necessary. We do, however, expect you to try to learn Norwegian.
Students who are new to the Norwegian language will receive support and guidance with language learning.
Feel free to contact us if you have any questions! kontor@fosen.fhs.no
Read more about Fosen Folk School