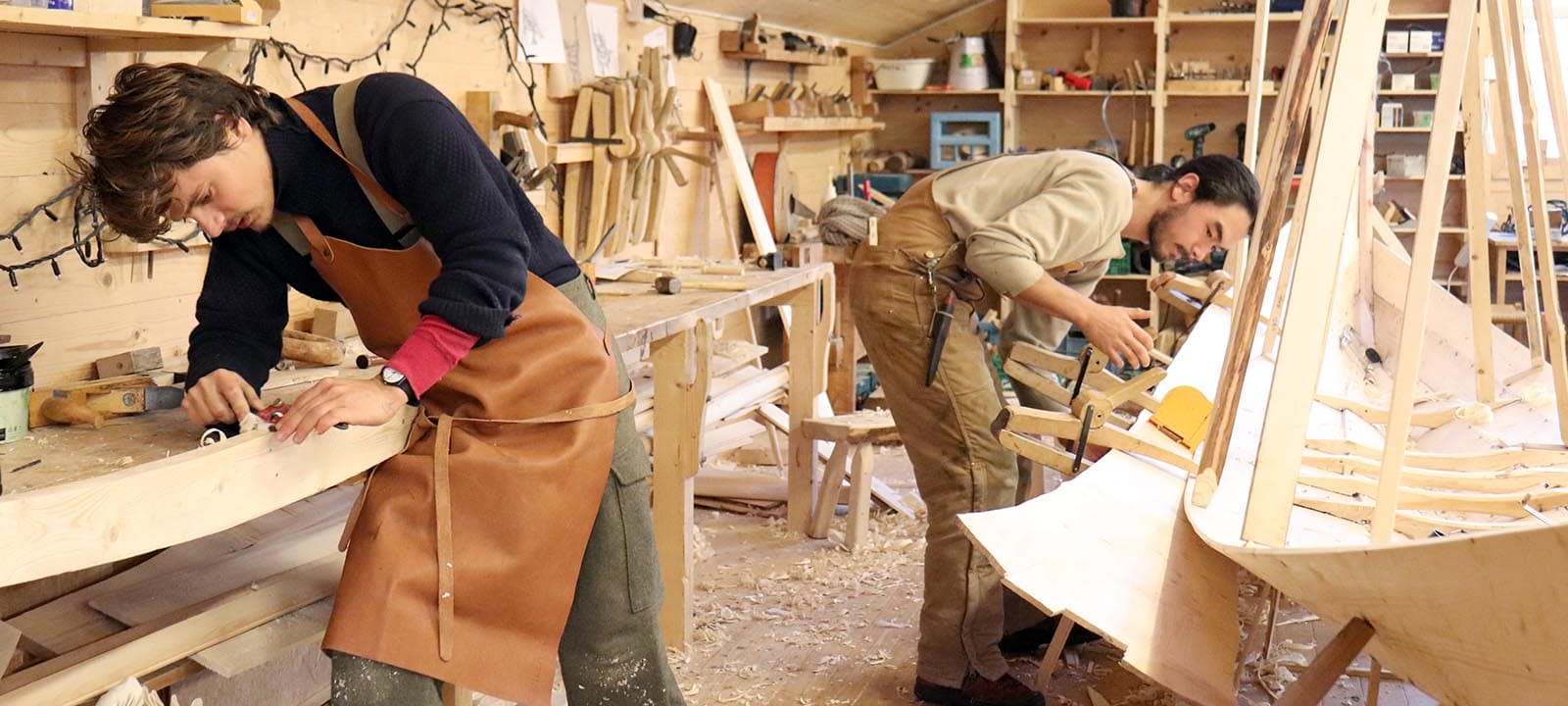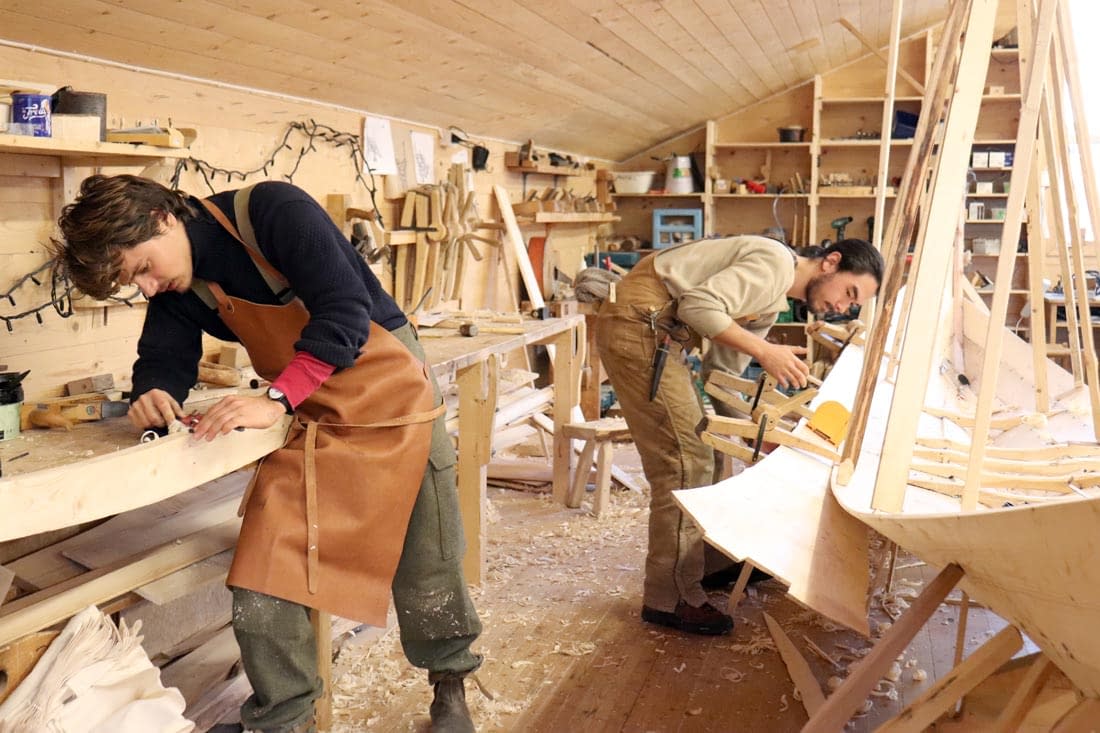 TRADITIONAL NORWEGIAN WOODEN BOATS
Learn a truely traditional craft. Here you will learn to fell a tree, mill it into boards, then shape those boards into a boat using the techniques taught by one generation to another. And afterwards go sailing!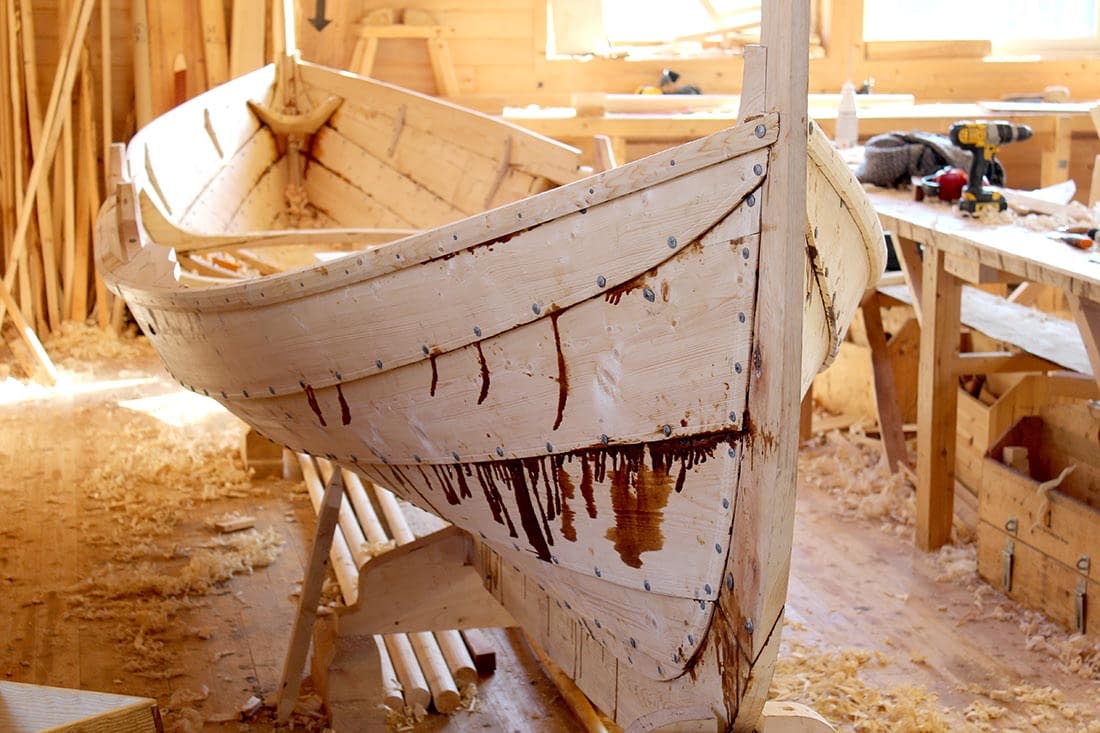 Clinker-built
Come and build a clinker-built boat with us, a thousand year old tradition. Would you like to help us carry on this tradition?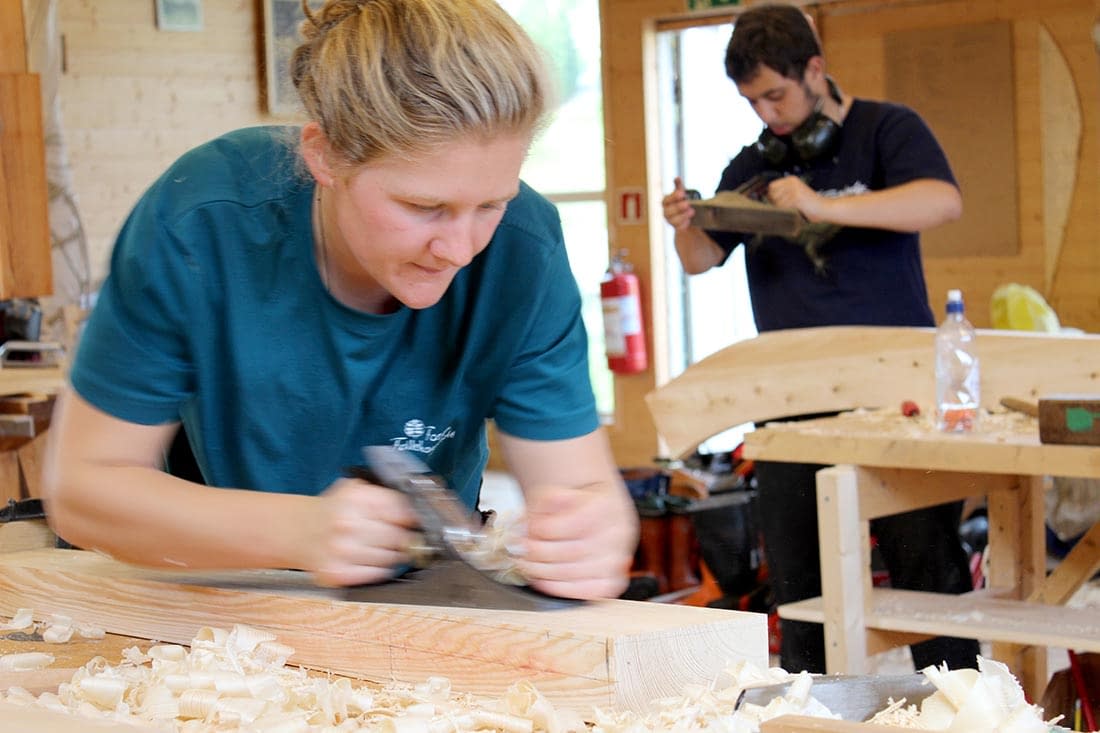 The whole process
It takes time to learn a new craft from scratch. You won't learn everything after just one year, but you will lay a foundation that you can build on in the future. You will get to participate in the whole process, from felling trees in the woods to sailing in a freshly built boat!
Most years you can also learn to sew a sail, forge metal rigging, and make rope as elective courses.
Logging and milling
We'll be starting by going out into the woods and choosing the right stock for all the parts of the boat.
Should our spruce grow on the northern or the southern side? Should it grow on sand or marsh, with hanging branches or "nail" branches? Should the bark be smooth or mottled? You'll be learning about all these things while we're camping in the woods, drinking coffee around the fire, and telling stories about the worst places we've gotten ticks.
We'll fell the trees, then drag them home to be milled into boards.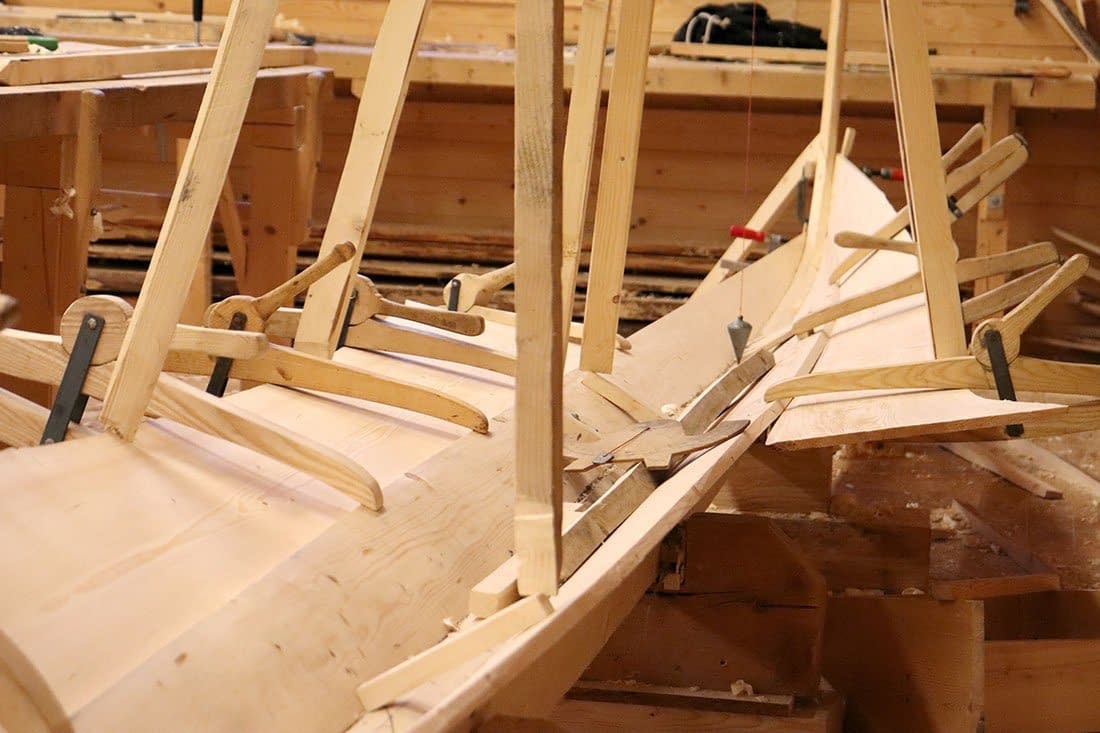 Boatbuilding
Then we start building the boats! The keel, stem, and stern get put in position, then we'll bend the first boards in place. We'll be fitting the ribs, flooring, oarlocks, oars, and the rudder.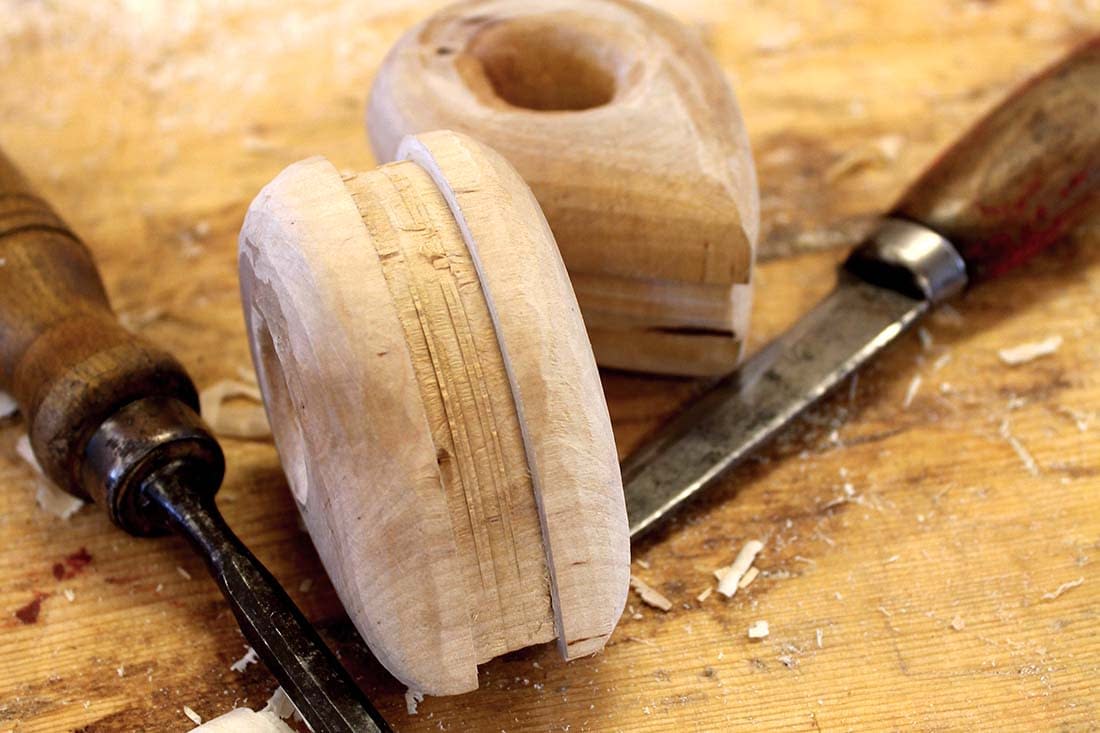 Woodwork
In the process you will be learning to use tools, shape curves, and work with wood. You'll recieve training in the use of machines, axes, planes, and other handtools. Much of what we do can be done with either handtools or machines.
To master boat building one must be patient, but the fun will never stop!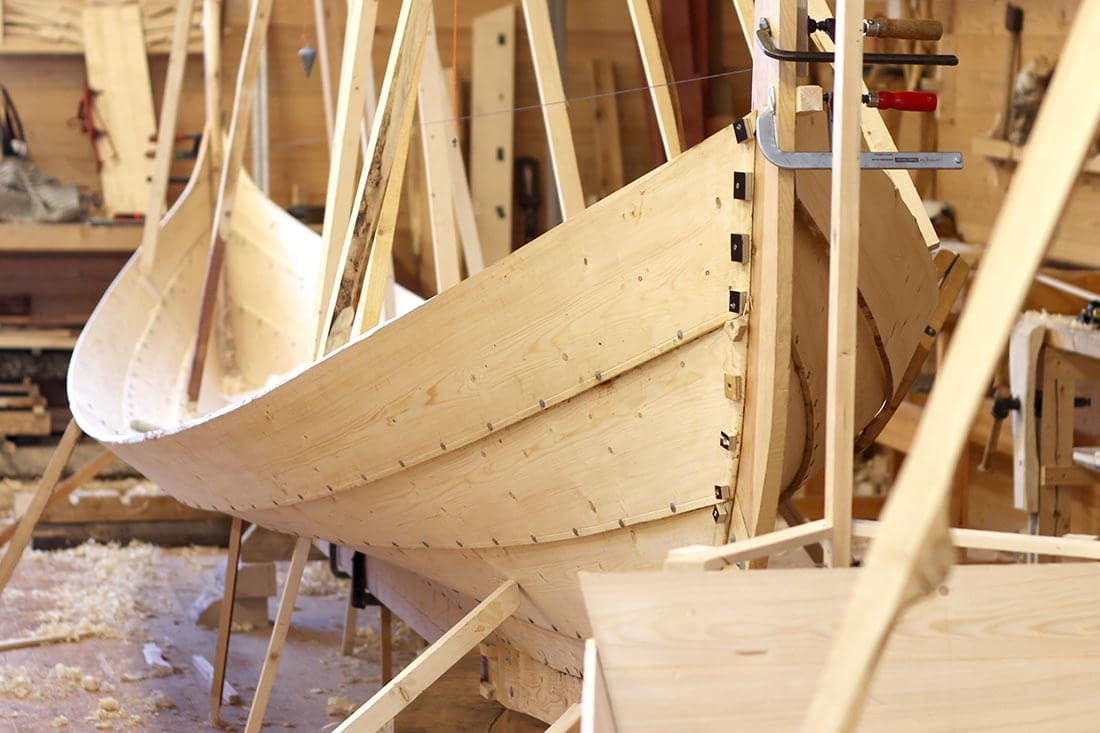 Shaping by eye
Much of what you learn here can be transfered to other handcrafts. We emphasize good technique, and developing a sense for form and shaping by eye - practical skills that you are guarenteed to use later in life, whereever you go.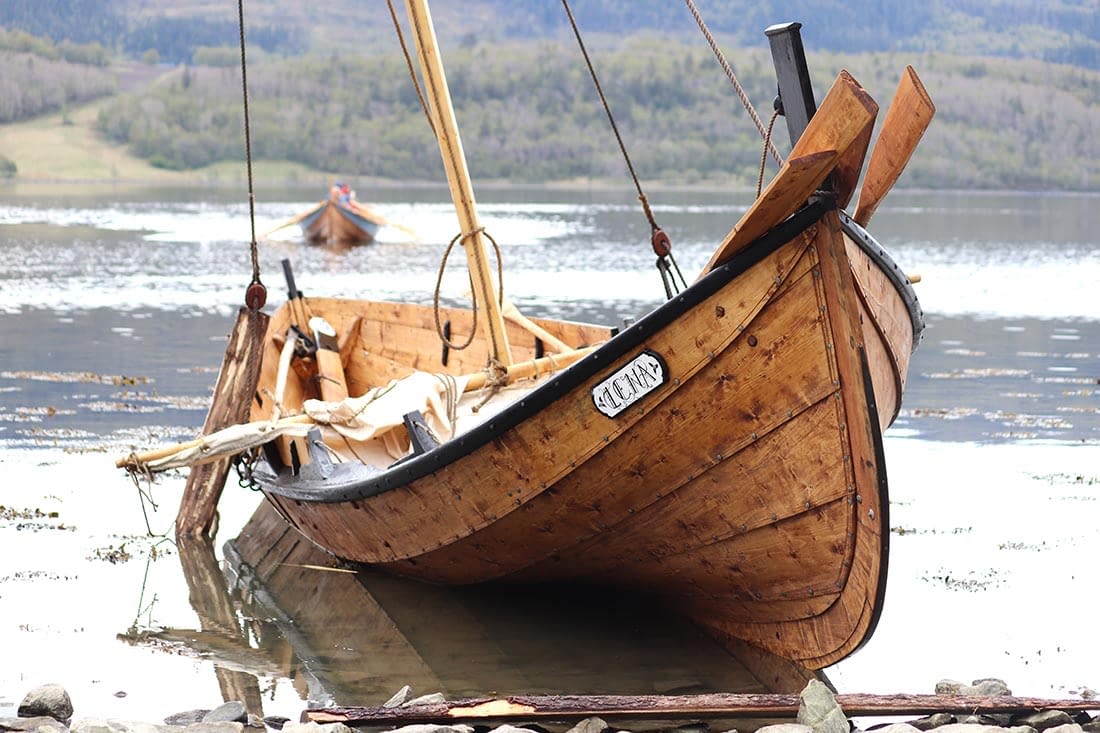 Sailing
In the spring we'll be having three weeks where we focus on work exclusively within our course. We'll work on the boats morning and night, finishing off the last touches before taking it sailing and plugging all the holes we forgot to plug before.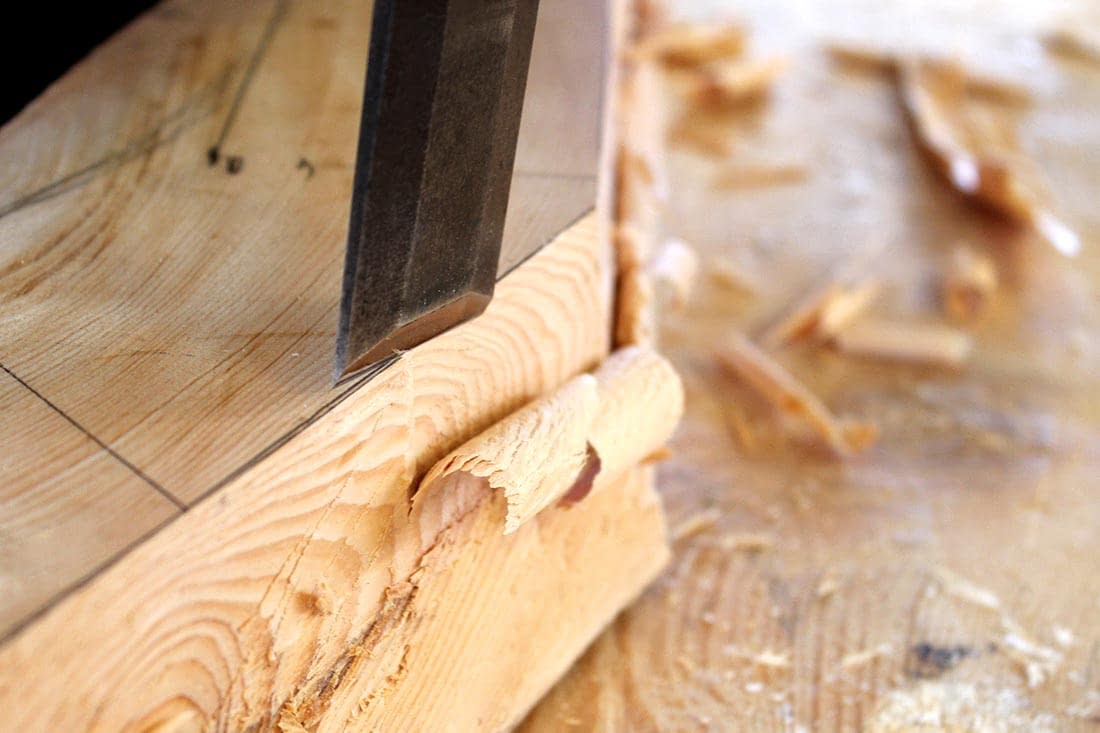 What we have:
A big boat building workshop
A blacksmithing forge
The Woods
A lumber mill
24/7 access to workspace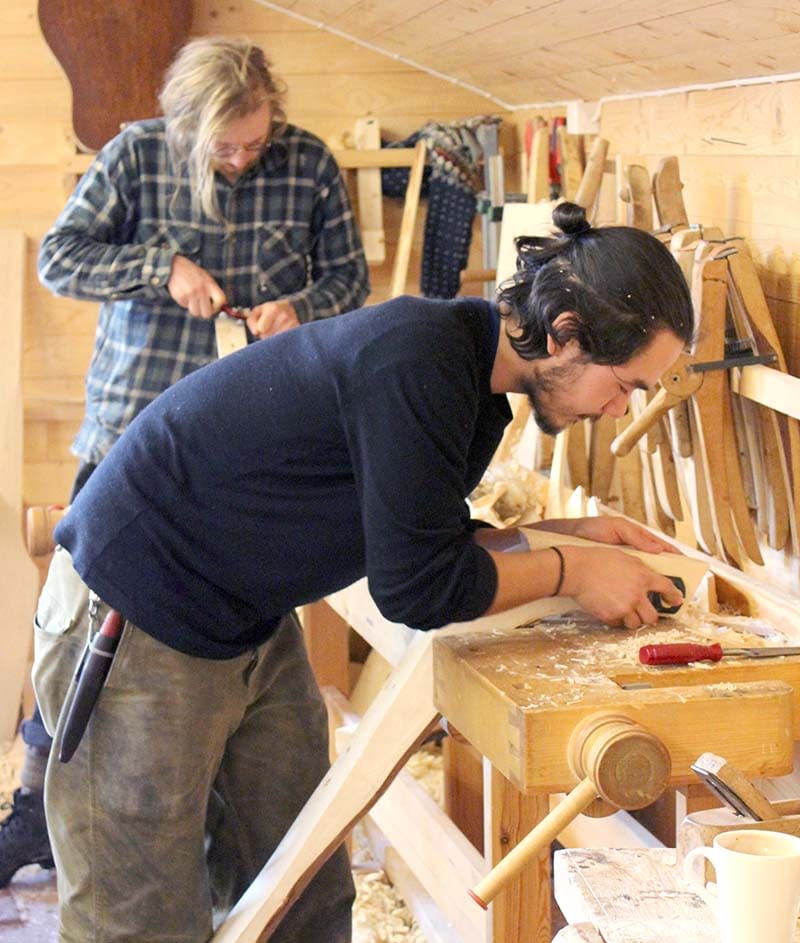 What you'll learn:
The use of traditional and modern handtools
To find material in the woods suited for specific purposes
To fell trees and mill timber
Good technique
Shaping material by hand
The construction of traditional clicker-built boats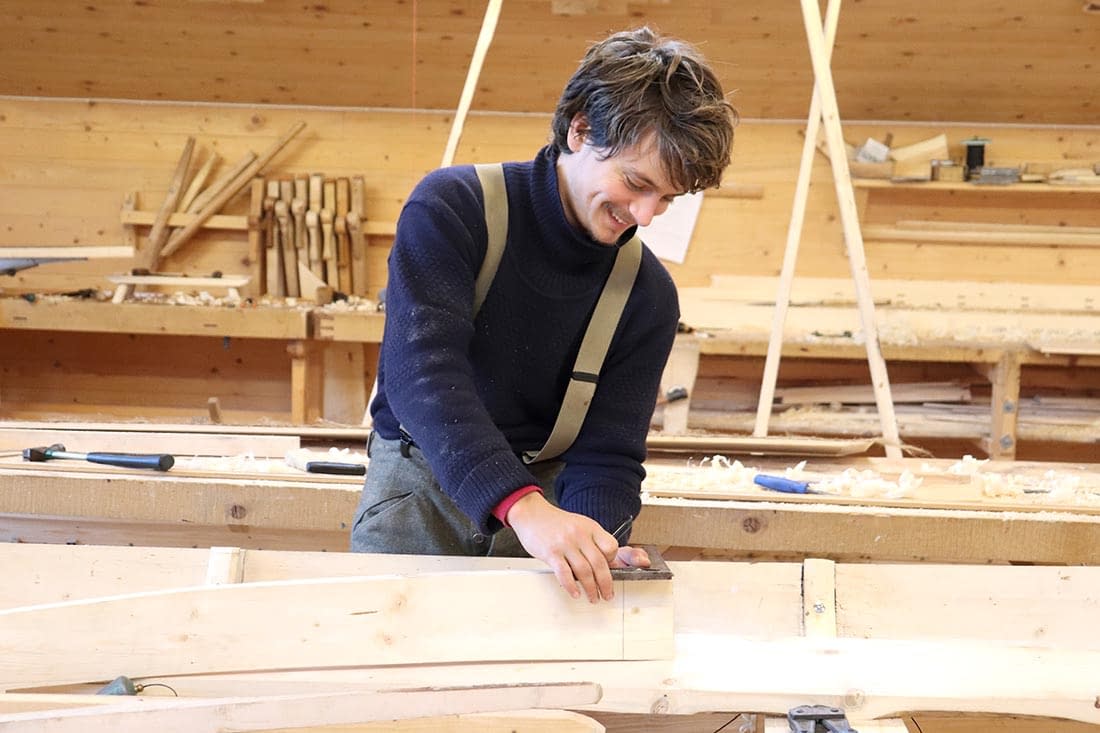 Who does this course fit?
Anyone who enjoys working with wood, or wants to learn more about it. While prior experience with wood is not required it may be an advantage.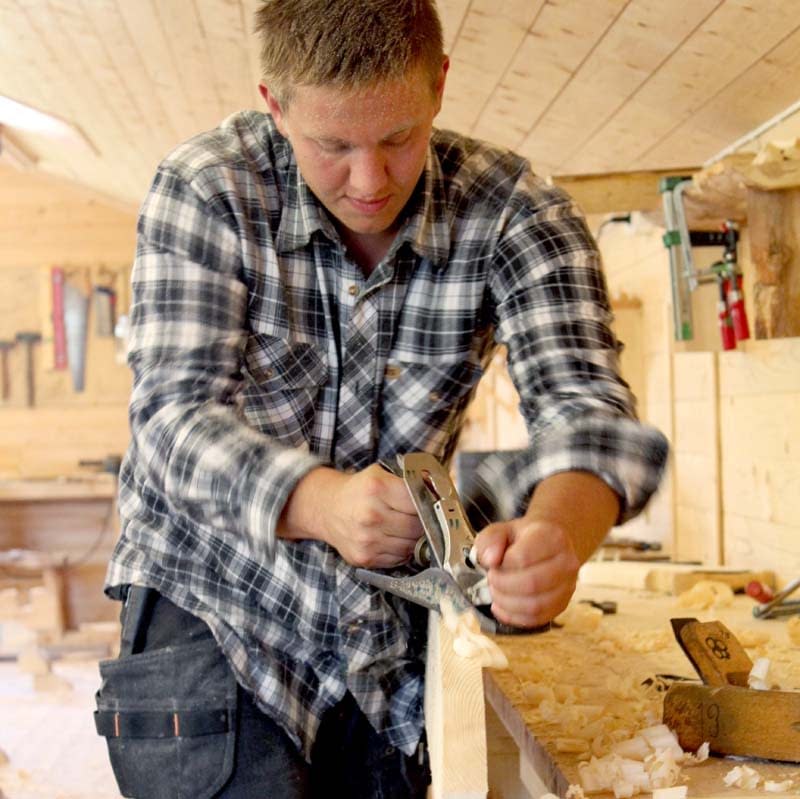 What do we expect of you?
We expect you to be interested, patient, and able to work independently.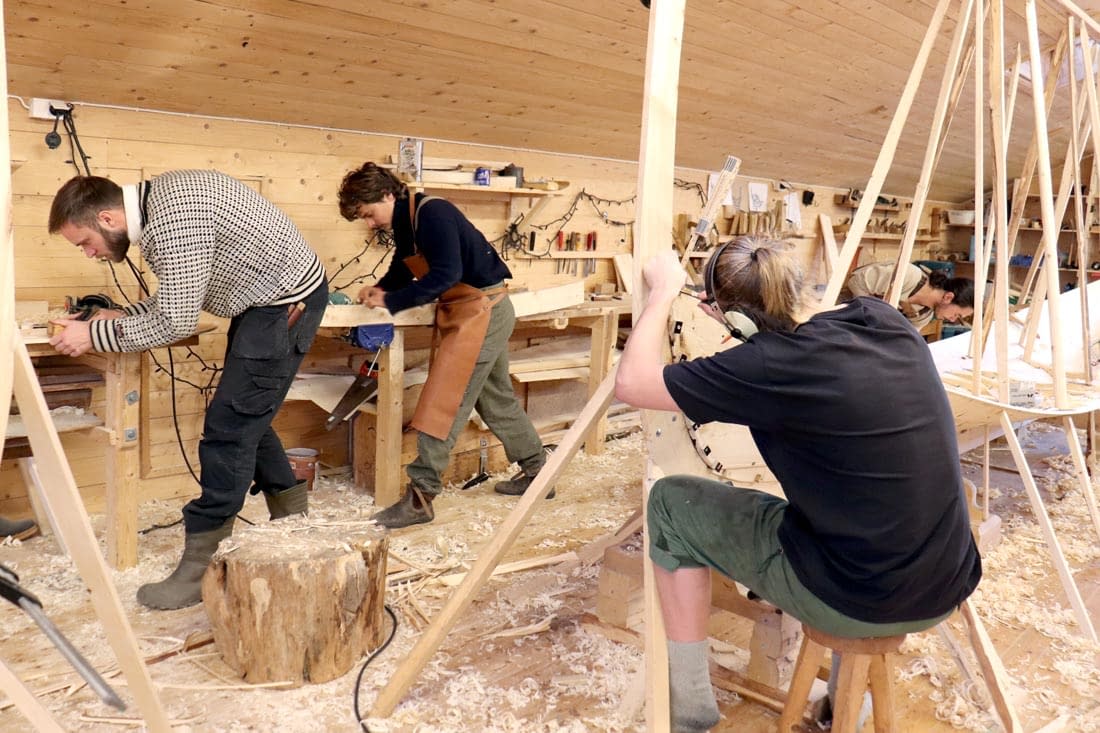 For the career oriented pupil
A year at Fosen is more than just boat building. There's also electives, schoolwide classes, week-long courses, trips, and "Dugnad" where we all pitch in at the farm or a neighbor's to get a big job done quickly.
We know there will be some extra motivated students who want more boat building than we have time for. Luckily the workshop is open 24/7 even if the teacher isn't there. Some stay two years and build their own boat, or become a teacher's assistant. Nearly every year there is at least one student who goes to work at a boat workshop elsewhere. We hope to see you soon!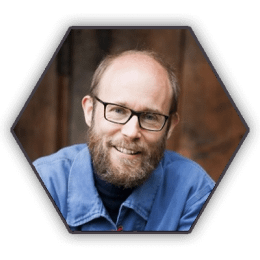 Boatbuilding teacher:


Kenneth Bjørkli
Kenneth is a renaissance man. His interests fill the spectrum from traditional crafting and old-time techniques to discussing quantum physics and Star Wars. He is a skilled woodworker, craftsman, and trip leader. Kenneth can be often found of a foraging expedition in the forest with his family.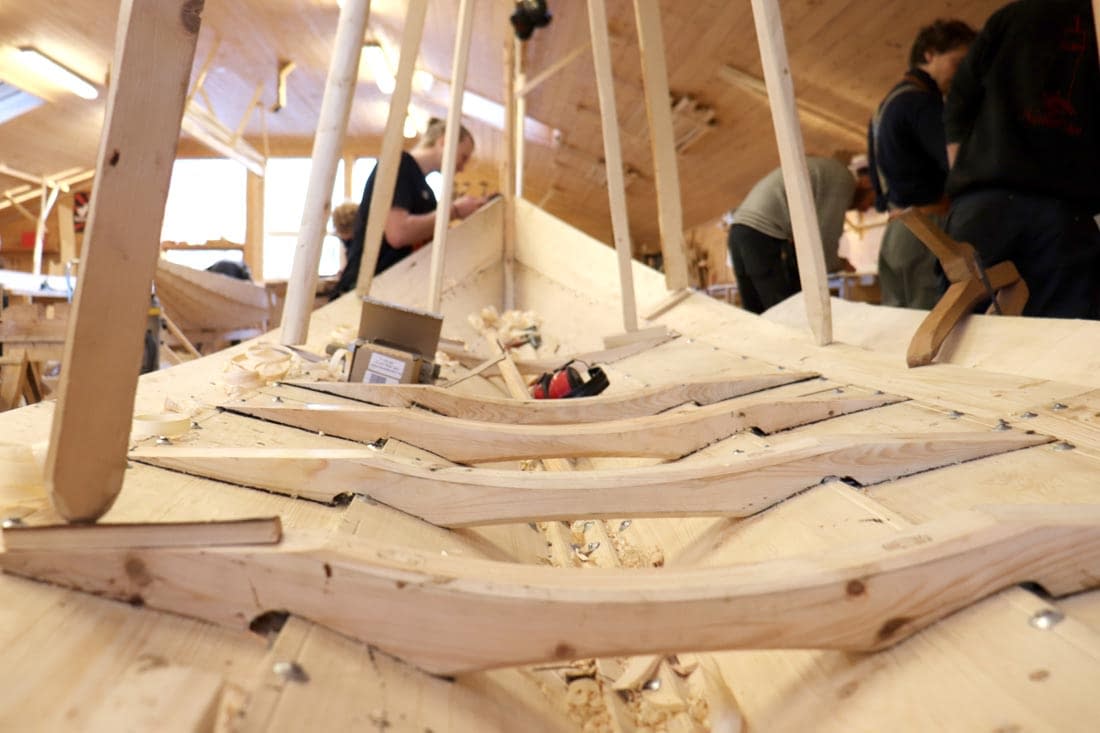 9 month course
This is a 9 month course, from late august until the end of may.
In addition to your course there will be a choice of electives and collective courses. The electives on offer change every year, but some of the classics are: tanning of hides, sail making, chest making, outdoor life, forging, knife making, willow weaving, plant dyeing, traditional shoe making, sailing, and textile work.
Whole school classes can be presentations from guest teachers, group work projects, farmwork, even school trips!
Our average student is between 18 and 25 years old, but we also have older students. All students live in the school dorms, and organic food is included in the school fee.
Classes are held in Norwegian, but all our teachers speak English as a second language and will explain in English when necessary. We do, however, expect you to try to learn Norwegian.
Students who are new to the Norwegian language will receive support and guidance with language learning.
Feel free to contact us if you have any questions! kontor@fosen.fhs.no
Read more about Fosen Folk School